Yum
The pork and sauerkraut New Year's tradition is alive and well for my family!
This dish hails from Alsace Lorraine, where it's called "Choucourte Garnie".  It is a French dish, though to look at it you would swear it was German. To taste it, will remind you that it is French after all.  Peasant food, rather than a dish for the aristrocracy, this is fantastic comfort food, and I just can't say enough good about it. One more thing, it makes fabulous leftovers, so make a big batch!
Pork and Sauerkraut is a New Year's "Lucky Food", just like Black Eyed Peas.  We owe thanks to the Pennsylvania Dutch for establishing this tradition.  Reportedly it comes about because pigs always root forward, which is the direction most of us want to go in the New Year.  Eating chicken is bad luck because chicken's scratch backward when looking for their food.
Going further back to the dish's Alsatian roots, Choucroute Garnie literally translates to "Garnished Sauerkraut".  The garnish being all those lovely smoked port items that go into the dish.  The invention of fermented cabbage in brine belongs to Attila and his Huns who arrived in Alsace around 451 AD.  Before the French gave it the happier name, choucroute garnie was closely related to the German dish Schlachtplatte, which means slaughter plate (yuck!).
As in so many rural communities, these German families wanted to make a dish composed of all the parts of the pig that would not be preserved over the winter, like the belly, organ meat, blood sausage, and fresh bratwurst.  Thankfully, the French influence gave us not only a nicer-sounding name, but a more refined taste and recipe to boot.
Don't get too hung up on the exact composition or recipe for Choucroute as there are many variations.  Put in the meats you love and can get in your area.  According to Wikipedia, nearly all recipes include black peppercorns, cloves, garlic, juniper berries, onions, and potatoes; most include bay leaves and wine.
Ingredients
Corralitos Meat Market is near our home in Santa Cruz…
The main things about Charcroute are the sauerkraut and the meats. Check the gourmet grocery areas for the best sauerkraut you can find. It's hard to find gourmet, but try to step up. You'll get more flavor and less salt. The meat is even more important. We used two kinds of freshly made sausage, slab bacon carved 3/8″ thick, ham, and sometimes a whole smoked duck. We were able to procure all of this from a fantastic local place called the Corralitos Meat Market.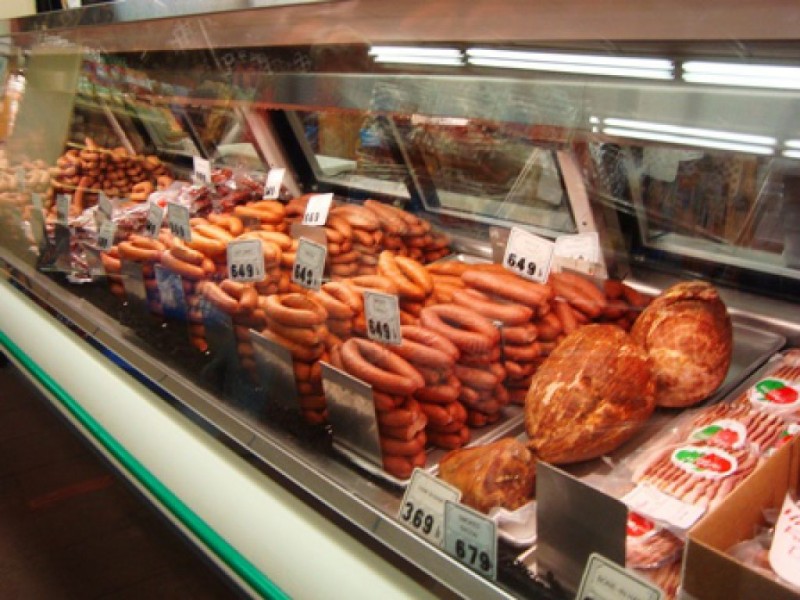 They make all their own sausage at the Corralitos Meat Market and it is fantastic!
Will serve 6-8:
5lbs Fresh Sauerkraut
1/3 cup chopped bacon
3 cloves garlic, chopped
1/2 bottle dry white white (Cheap California Sauvignon Blanc is fine, but a decent Riesling is tastier and more authentic)
2 Bay leaves
1 teaspoon whole black peppercorns
4 cloves
4 to 6 pounds of assorted sausages, cured meats, or whatever other meat you like
Note:  Pork and Sauerkraut / Choucroute Garnie freezes well.  The flavors just keep getting stronger.  It also microwaves well.  It's one of those "perfect leftovers" we love to make too much of so we have it for lunches and such.
Preparation
Like much peasant food, pork and sauerkraut for New Year's is very easy to cook.  Fry the bacon, throw the sauerkraut, spices, and white wine into the pot.  Bring to a boil.  Embed the meats.  Transfer to the oven and cook until all the meats are hot.  It's fast and easy.  Some folks like to cook in a crock pot, and that's fine too.
More detail:
1. Saute the chopped bacon for 1 minute over high heat in a heavy pan. Turn the oven to medium-low, add the garlic, and saute for another minute.
2. Preheat the oven to 325 degrees.
3. Take the sauerkraut out of its container and reserve about 1 cup of the liquid. Add it to the pot and stir well to blend with the bacon. Add the reserved cup of sauerkraut liquid. Add the white whine, bay leaves, peppercorns, and cloves. Bring it to a boil on top of the stove. Boil until most of the liquid has evaporated–about 20 to 30 minutes.
4. Embed the meats in the sauerkraut, cover the pot, and cook it in the oven until the meats are hot–about 30 minutes.
5. Serve the meats on the bed of sauerkraut on a large platter.
Presentation
Choucroute makes a bit of a spectacle, so it's great for entertaining.  Present it on a big platter so everyone can see the ingredients and pick and choose their favorites:
Here's a much younger me (we've had this New Year's Day tradition for many years) and my wife Kathy presenting a big platter of pork and sauerkraut to kick off the feast…